Fitness for
Leadership team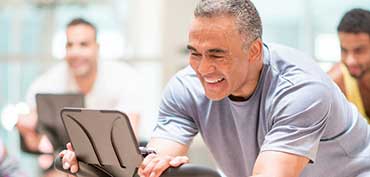 "A leader is one who knows the way, goes the way and shows the way."
– John. C Maxwell
This program covers the following topics through interactive sessions and workshops on:
Leadership fitness
Travel fitness
Managing back health
1:1 fitness coaching
Fit@Work targeted towards the entire employee base. Covers different topics through:
Lunch and learn sessions on health related topics
Workshops on Fitness, Diet and Women's wellness
Fitness classes
Working women's
fitness program
This program covers the following topics through interactive sessions and workshops on:
Provides awareness towards the changes in body with age
Workshops to create a women specific fitness plan including exercise and diet.
Body image awareness program helps to break weight related myth and understand the right weight range to maintain.
Corporate background
Ruma, the founder of Navitae, is a fitness consultant certified from International Sports and Sciences Academy(ISSA), USA and National Academy of Sports Medicine(NASM), USA. Before Navitae, she held corporate career for 15 years with MNCs like Hummingbird, Mindtree and Fidelity Investments. She was an IT Engineer by profession and is currently following her passion in fitness. She has been leading an active, fit and a happy life for the past 20 years while managing family and career.
Institutional projects so far:
Lecture and demo session for Bethany high school teachers.
Financial Investment Multinational: Fitness workshop for women leaders.
NTT Data : Lecture session on weight management and eating right for women employees.
SJW : Fitness above 40 session for this residential community
Insurance Multinational : Lecture session on diet choices and exercise demo.
Phoenix One west : Fitness workshop.
Nielsen : Fitness workshop for Finance team.
Oxford College of Engineering : Role sports play in developing personality and career.
SLK : Fitness for leadership team.
Embassy Pristine : Lecture on Mindful eating and active lifestyle
Cowrks : Session on managing healthy lifestyle for employees
Infoblox : Webinars and training for employee fitness.